The History of Online Casino Gambling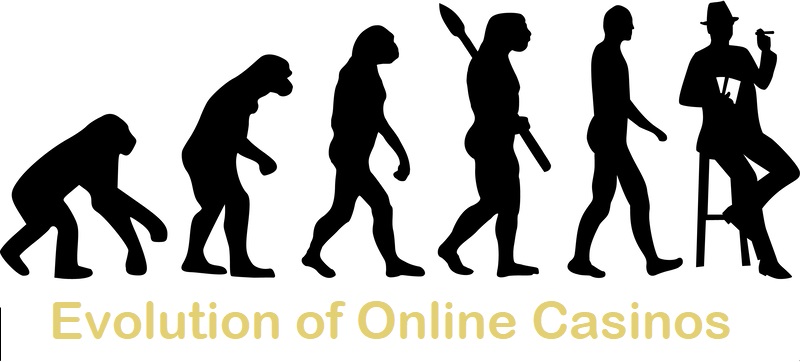 The internet as a whole has had a very big impact on all aspects of life, including gambling. Gambling in general dates a few hundred years down in history, but online gambling became quite popular in the 90s.
Since its early beginnings, online casinos have achieved success after success each year. Nowadays, we can easily say that people see online casino sites as a place to relax while playing their favourite games. Wagering on slots, table games, live dealer games, etc., is generally perceived as a fun pastime activity.
But people might wonder – how did it begin? How did this multibillion industry develop? In this article below, we will give you a breakdown of the history of how online casinos were created and how they have evolved into the giants they are today.
The Beginnings
One big event that is seen as the start of online gambling was the Free Trade and Processing Act being presented by the country of Antigua and Barbuda. The small country started giving licenses in 1994 to operators who wanted to offer online gambling services to punters.
The very same year, one of the better-known game providers these days, Microgaming, went live, and they launched the first online casino called the Gaming Club. But Gaming Club online casino didn't start full operations until 1995.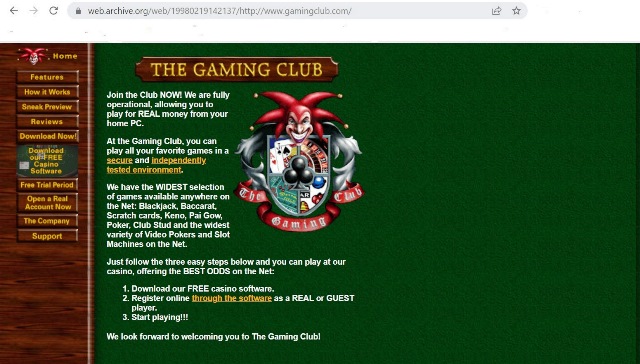 The Gaming Club is marked as the first real money online casino, but some other entities claim the same. However, one thing is for sure – Microgaming remains one of the leading game providers in the world even nowadays.

There was another company that existed back in the mid-90s in the iGaming industry called CryptoLogic. CruptoLogic owned InterCasino, which was established in 1996. Microgaming and CrytoLogic existed for a long time, so both companies somewhat fought over who was the pioneer in online gambling.
A year later, in 1997, three was a massive increase in online casinos. From 15, that year the number jumped all the way to 200 in the world. The annual revenue from online gambling in the world in that year reached a stunning $1 billion, with some of the biggest sites being Intercasino, Gaming Club, and 888 casino.
Since then, the industry's growth has been staggering, evolving each day as technology advances, and now thousands of online casinos are available for players worldwide.
Struggles at the Beginning
As you would expect, the early days of any industry can be challenging, to say the least. In that line, back in the 90s, online casinos were not regulated like they are today. It can be said that games were a bit crude compared to today's standards, but everything was good enough then.
Now, a dozen third-party auditors and organizations make sure online gambling sites keep all the standards in place.
So, given the unregulated aspect of the industry, it should come as no surprise that no online casino from the first day is alive today. Maybe only a couple of online casinos from the late 90s exist today, but the most popular sites are still the modern ones.
The first online poker Planet Poker, site was established in 1998, and multiplayer online gambling came shortly after in 1999, an aspect of online gambling that proved to be quite popular, even nowadays.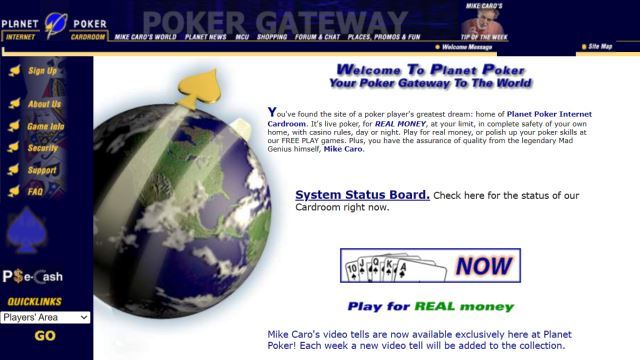 The Transition from early days to now
Many sites have emerged in modern times that have left an excellent impression on the industry. But, as you would expect, some online casinos evolved and are relevant to this day, while others have regressed and they are nowhere near the success stories of other operators.
In the 90s, the way games worked and how they looked was much different than what we see today due to the technologies implanted, lack of good graphics, and internet speed. Back in the day, the software used was nowhere near as good as today, but people were impressed that they could play casino games using real money from the comfort of their own homes.
Many people saw the potential in the online casino industry, so it was highly competitive very early. However, new operators were hitting the market constantly in the 2000s, so every aspect of online gambling evolved: bonuses, game quality and quantity, loyalty schemes, better user interface, etc.
There is a constant fight over who has the better features and offers for players, even nowadays, but that was more evident in the transition period where everything seemed new.
Each online gambling site had to be unique and offer a different but an attractive site to the players. Every detail had to be considered. As an example, payment methods were crucial, and online casinos that integrated the most relevant ones at the correct times flourished.
Soon after the payment methods, big online slot machine progressive jackpots emerged, and multiplayer games flourished. Different-themed slots and live casino games became a very big trend, and suddenly everybody was playing online casino games more and more.
Mobile casinos that we see today are arguably the cherry on the top, and it is just another step in the online casino evolution.
Online poker players were also left stunned by the evolution of poker sites. Since the emergence of the first possibilities of online poker gambling, punters suddenly had the chance to enter the World Series of Poker Tournaments by playing online poker at poker sites.
The online gambling sector nowadays creates billions of dollars every year, but plenty of countries still refuse to regulate it. The vast majority of them do so because they have close ties with the land-based establishments in the country, but that situation is expected to change sooner rather than later.
The First Online Gambling Sites That Are Still Active Today
As mentioned above, online gambling sites were nowhere near up to the standards that are set today, so it should come as no surprise that the vast majority of sites in the 90s do not exist these days. Nowadays, the internet is so full of online casinos that there is no possibility to say an exact number of how many sites are active.
The majority of these online casinos are relatively new kids on the block. However, some operators exist for a short time but have risen to the top, thanks to smart investments in technology and different features on their sites.
However, some sites existed for a very long time and managed to withstand the test of time. Some of the biggest names that are active even today in the online casino industry have existed since the inception of the sector.
The following operators are known to be among the oldest in the online gambling industry:
InterCasino
William Hill
888
Omni
Gaming Club
What About Game Providers?
Online casinos would not be where they are today if game providers did not exist. These providers are in charge of creating the games that casinos have in their lobby. Software providers are widely thought to be the powerhouse behind the modern iGaming world that we know today.
Every online casino must have dozens of games from the best game providers to have any shot of succeeding in today's saturated online gambling world. Some of the providers we know today have existed since the emergence of online casinos, and one of those is Microgaming, which we mentioned above.
You will quickly notice the same games at different online gambling sites, and it shouldn't surprise you if those online casinos are partnering with the same game providers. Some of the oldest and most prominent names in the game providers sector are:
Microgaming
Playtech
NetEnt
RealTime Gaming – Not very trusted
Online Gambling Regulators
As explained above, Antigua and Barbuda were pioneers in hand-out licenses, which happened in 1994. The Kahnawake Gaming Commission in Quebec also joined a couple of years later.
Before you know it, other jurisdictions started doing the same. It is important to note that there isn't a regulatory body functioning globally for all operators and regulating the global online gambling market.
Almost every country has its own regulator and licensing authority that are in charge of overseeing online gambling. Nowadays, there are around dozen gambling authorities in the world that are considered to be trustworthy and reliable.
Online casinos that operate internationally must have more than one license from one of these renowned institutions. So, online casinos these days choose where to operate and then apply for a corresponding licensee for that market.
Online casinos depend on testing agencies to ensure all games are entirely fair. So, there have to be different standard authorities to regulate the games. As a result, the eCommerce and Online Gambling Regulation Act, more commonly known as eCOGRA, was launched in 2003.
It was created for conducting audits on operators and ensuring that all games' fairness is ensured.
If you play online casino games, you have surely noticed the eCOGRA seal on any reputable online casino industry. The company has headquarters in the UK and makes sure that the operator functions professionally.
Apart from online casinos, game providers must also be verified by eCOGRA for their games to be considered entirely fair and safe to players.
Finally, some of the most commonly seen regulators in the world are:
The Rise of Mobile Gaming
As the online gambling scene evolves, it is no coincidence to see new trends always hitting the market. With technological advancements, people can finish almost all their daily activities on their smartphones.
That is a trend that has transmitted into online gambling as well. The roots of the idea of mobile gaming date back some 10 years after the emergence of online casinos. Nowadays, mobile casino games are a vital pillar in the industry.
The mobile casino concept was introduced by Playtech back in 2005, and it soon hit the market by storm.
Nowadays, every reliable online casino needs to optimize its site for all mobile devices, regardless of the OS they run on. Moreover, game providers create games with the latest HTML5 technology so that they can be accessed from any mobile browser.
Moreover, most of the best online casinos have created fully functional mobile apps so punters can have an even better gaming experience. Very often, players will be rewarded with various bonuses if they download the casino app, so it is clear how highly mobile gaming is rated these days.
It is expected that the mobile gambling industry will rise even more in the near future, and it will improve so much, attracting even more players.
Gambling Laws
We mentioned above that some of the biggest countries in the world have already made online gambling completely legal. Of course, that wasn't always the case, but the first states that saw the potential of online casinos are now reaping the rewards.
Nowadays, countries like Qatar and the UAE make it outlaw gambling across every type of casino. Still, developed European countries such as the UK, Sweden, Germany, France, Denmark, Ireland, Italy and Spain have regulated online casinos, and people can gamble online legally.
What Does the Future Hold?
Besides loads of online casino games, there are plenty of things punters can enjoy these days that were simply unavailable about 20 years ago. There are good loyalty schemes that can be quite rewarding, with different ongoing promotions and tournaments, but there are also verification methods that are much stricter.
Not everyone can register on an online casino, and we see that as a big plus. Websites also use different technologies to ensure players' safety, such as SSL encryption software that ensures all information players leave on the site is entirely safe.
There is still so much more to come from online casinos, and even though it seems that the industry is at its peak at the moment, we expect it to reach even new heights in the coming years. Live casinos are emerging and widely accepted and favoured by blackjack and roulette players, so with the advancements in technology like virtual casinos, we will probably see that aspect grow in the next couple of years.
Thanks to Nicky Smith for helping make this article and sharing her vast knowledge of online casinos.
You can lean more about Vintage Gaming here